Aldi takes on the Chester 10k
Award winning supermarket joins forces with award winning race organisers.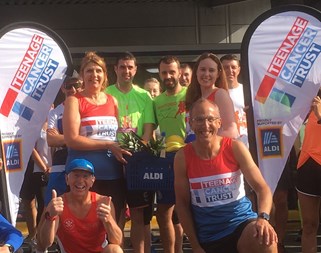 Aldi UK's Jo Harding and Sarah Kelly (centre) at August's training run
The organisers of the Chester 10K running race have announced that they have secured a three-year sponsorship agreement with Aldi for the event.
"We are delighted to be working with such a respected major company as Aldi as title sponsor for the race," said Joint Race Organiser Chris Hulse of Active Leisure Events based in Chester.
The inaugural Chester 10k was held in March 2018 and sold out quickly.  The race starts at the Northgate Arena before heading out on a fast course along Parkgate Road for a loop of Mollington before returning for a spectator packed finish in front of the Town Hall and Cathedral.
"This year's race, held in March, was a resounding success and with Aldi's help we can make it even better!  The 2019 Aldi Chester 10k is being held on Sunday 10th March and it is set to be another sell out event" added Chris.
"The nominated charity for the event will be the Teenage Cancer Trust. We look forward to working with Aldi to help them achieve their target of raising £5m over 5 years for this worthwhile cause."
Jon Wilson, Regional Managing Director at Aldi UK, said: "We know all about the importance of cooking fresh, healthy food through the work we do to support Team GB as they train for and perform to the best of their abilities.
"Supporting the Chester 10K is a great opportunity not only for us to become more involved with the local community but to help our customers stay fit and healthy by taking part in such a great event.
"The race also helps us to build on the excellent fundraising efforts of our Cheshire stores for the Teenage Cancer Trust. We're excited to take our local fundraising further at the 2019 event."
To find out more about the Chester 10K check out the link at the top of the page.