Wanted - bands on the run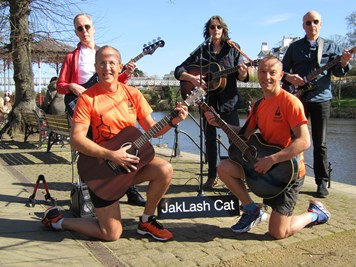 The organisers of the Essar Chester 2017 Half Marathon are offering more local bands the chance to get involved in the event which takes place on Sunday 21 May.
"This is a big opportunity for local musicians to showcase their talent in front of an audience of 7,000 people," says Joint Race Organiser Chris Hulse of Active Leisure Events.  "Last year there were a number of bands on the 13.1 mile route, and it was a real hit with the runners. In this our 36th year we'd like to create a real party atmosphere."
It is hoped that local people who play all types of music from acoustic combos, to rock groups to brass bands will once again apply to entertain the runners and spectators along the route.
The race route takes the runners initially through the centre of the city then heads out into the countryside via Parkgate Road past Mollington towards Two Mills, then it turns around through Saughall and returns to Chester to finish in the city centre.  The organisers have identified a number of prime locations for bands to set up their gear and rock it to the runners.
"Music on the route can make a significant contribution to the athletes' experience of the event," adds Joint Race Organiser Andy White.  "It livens up the atmosphere; gives a boost to the spirits of runners who may well be flagging at some point in the race and is a big hit with the people that come out to support and spectate."
Anyone interested in finding out more about how their music can contribute to the Essar Chester 2017 Half Marathon should contact Andy White at andyw@chestermarathon.co.uk.