Gary sets the pace at London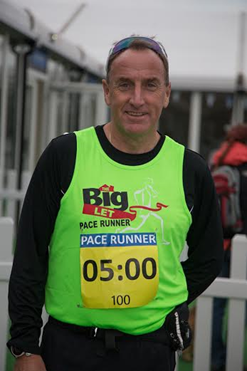 Gary Dixon of Ellesmere Port Running Club heads for the capital city this weekend as a man with a special mission – to provide pacing support for runners in the London Marathon on Sunday. 
Gary has built up an impressive expertise in the art of pacing ever since 2013 when he made his debut as the first ever Pace Runner for the Chester Half Marathon.  He has paced regularly for that event and the MBNA Chester Marathon every year since besides being in demand as a Pace Runner for numerous other events around the country. 
In 2015 Gary ran his 100th marathon at the MBNA Chester Marathon where he received a special award for this feat on the finish line.
The organisers of the MBNA Chester Marathon are expecting a surge in interest for running following the London Marathon on 23 April and will be yet again offering  runners support in their training for the autumn event with free seminars and monthly training runs based at Total Fitness Chester where there is also a chance to meet the Pace Runner team.
 "Being a high profile event the London Marathon inspires people to get out there and run, with all manner of objectives in mind", says Gary.  "Many aspire to do the marathon itself and as it happens the MBNA Chester Marathon is perfectly placed to be their target race.  It has lots to offer to novice and experienced athlete alike."
"It is marvellous to be in a position to help people achieve their dreams and I look forward to being there for the novices this summer as they train for Chester!"