Runners to go the distances for Northern Lights Charity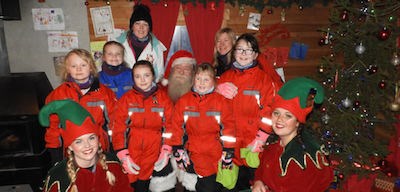 Northern Lights will be the nominated charity for next year's Essar Chester Half Marathon and MBNA Chester Marathon and Metric Marathon it has been announced.
"Northern Lights Children's Charity is a local charity which each December  enables 20 children with life limiting illnesses to swap their hospital visits for sleigh rides, deep crisp snow, reindeers and snow mobiles," says Karen Jones MBE, Chair of the charity.
"Our volunteers transport them far away from appointments, treatment regimes and worries to the winter wonderland of Lapland and a very magical visit to meet Father Christmas".
The Northern Lights Charity has been involved with the popular Chester events in the past and is delighted to be coming on board again as the official race charity for both the May and October races.
 "We are pleased to be supporting such a worthy local cause," says Chris Hulse, Joint Race Organiser of Active Leisure Events.   "Each year an amount from the race entry fees is donated to the official race charity. Our runners will also be invited to raise money and we hope to raise in excess of £25,000 for Northern Lights."
Visit : http://www.activeleisureevents.co.uk/marathon/charity for more information on the Northern Lights Charity.
 Visit http://www.activeleisureevents.co.uk/marathon for information on the Essar Chester 2019 Half Marathon (19 May) and MBNA Chester Marathon and Metric Marathon (6 October) as well as the Aldi Chester 10k being held on 10 March.